A core aspect of Kadalys is to bring you an unforgettable sensory experience through our iconic and unique scents. We offer full transparency regarding our fragrances so you can understand the labels and cosmetic analysis when making your skincare decisions.
Fragrance is one of the most difficult ingredients to keep natural because the range of synethetic scents offered is much more diverse than that of natural and organic fragrances.
To give you an idea, manufacturers of synethetic fragrances have access to more than 1,500 fragrant raw materials for the creation of a synthetic fragrance compared to around 150 for the manufacturer of an organic fragrance.
Inspired by our tropical and warm islands, our intoxicating and light fragrances are 100% certified ECOCERT / COSMOS, made in France, and developed only from natural raw materials and essential oils.
DECODING THE DIFFERENT NOTES IN FRAGRANCE
A fragrance is made up of 3 main notes, distributed according to an olfactory pyramid:
Top notes: noticeable after about 30 minutes
Middle notes: the notes that dominate for 4 hours
Base notes: notes that persist the longest, lasting 6 hours or more
This is also why your perfume evolves on your skin and over time.
How to identify the different fragrance families?
Fragrances are divided into 7 major olfactory families: woody, citrus, leather, floral, fern, fruity, and amber.
Created in 1984 by the Société Française des Parfumeur, this classification makes it possible to understand and identify a fragrance's composition more quickly. However, it has some variations, because there are multiple variations of scents in one and the same family and several facets which sometimes mix several families together.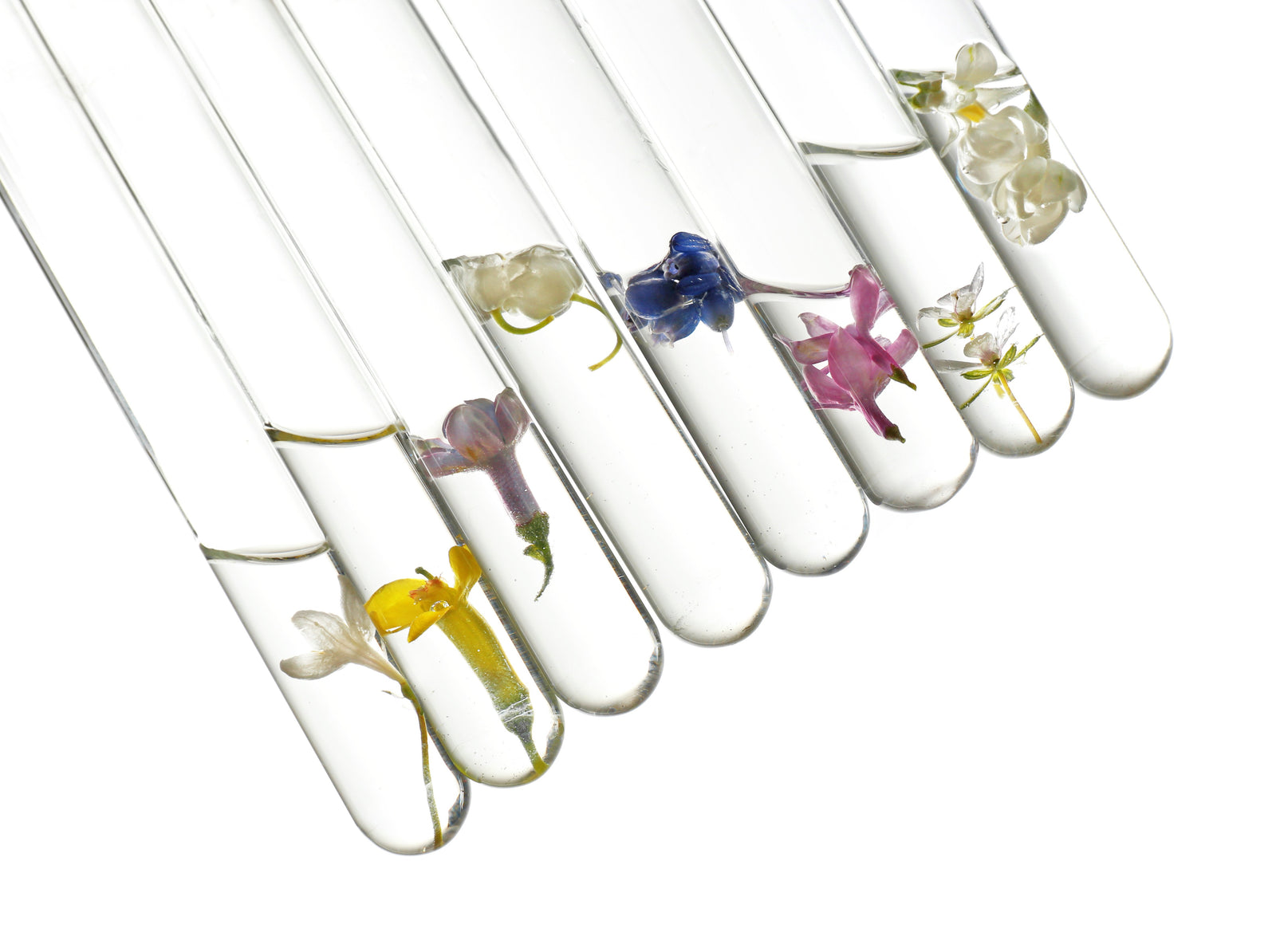 ESSENTIAL OILS IN OUR FRAGRANCES & POTENTIAL ALLERGENS
Partly composed of essential oils, our fragrances are naturally based on the principles of olfactology and aromatherapy.
Allergens are molecules naturally and organically present in the raw materials used in fragrances. They can sometimes cause reactions, such as redness or itchiness, on sensitive or reactive skin. For example, benzyl salicylate is the natural and odorous compound of ylang-ylang.
There are twenty-six (26) fragrance substances that are recognized as allergenic by the Cosmetic Regulations according to their dosage and the function of the product. Here are the fragrance percentages according to product type
0.001% of the formula for products that do not rinse off (serums, creams, oils, etc.)

0.01% of the formula for products that rinse off (shower gels, face cleansing gels, make-up removing oils, etc.)
We share these fragrance ingredient levels for transparency. It does not guarantee your skin won't react to them, which is why we recommend that test any new product on your arm first and wait 24 hours.
Again for transparency, we share that our fragrances sometimes include the following allergens:
Limonene: present in many essential oils, in particular from citrus fruits.
Linalool: naturally present in almost all essential oils. It brings a floral and fresh touch.
Citral: present in lemongrass oil, verbena, orange, and lemon, it gives a citrus scent to fragrances.
Benzyl salicylate: naturally derived from salicylic acid, it has a very pleasant sweet and floral scent and very light main compound of ylang-ylang. It gives a floral scent (lilac, jasmine).
Geraniol: gives off a sweet floral scent, similar to roses. It is naturally present in many fruits, vegetables, spices and essential oils: apple, ginger, blackberry, blueberry, rosewood, jasmine, lavender, etc.
Always made without
Ingredients of animal,
chemical, or
SYNTHETIC origin