DID YOU KNOW THE AVERAGE WOMAN PUTS
MORE THAN 515 SYNTHETIC CHEMICALS
Now consider that 60% of what you put on your skin is absorbed into your body.
What's more? The U.S.-based FDA prohibits *checks notes* only 11 ingredients in cosmetic products, while the EU bans over 1400.
You want to know what you're putting on your skin, and you want to feel good about it.
But, with so many products and conflicting information out there it can be overwhelming.
You deserve skincare that works for your skin and is sustainable, without compromising your health or the environment.
You shouldn't need a degree from MIT to figure out what ingredients are safe for your skin.
Say goodbye to wasted time and money on ineffective skincare
And say hello to healthy, sustainable results!
You don't have time or money to waste on products that have questionable ingredients or don't deliver on their (mostly empty) promises.
You want to build your beauty rituals with ingredients that really work, without causing harm.
You deserve to have skin that glows like Rihanna on Superbowl Sunday.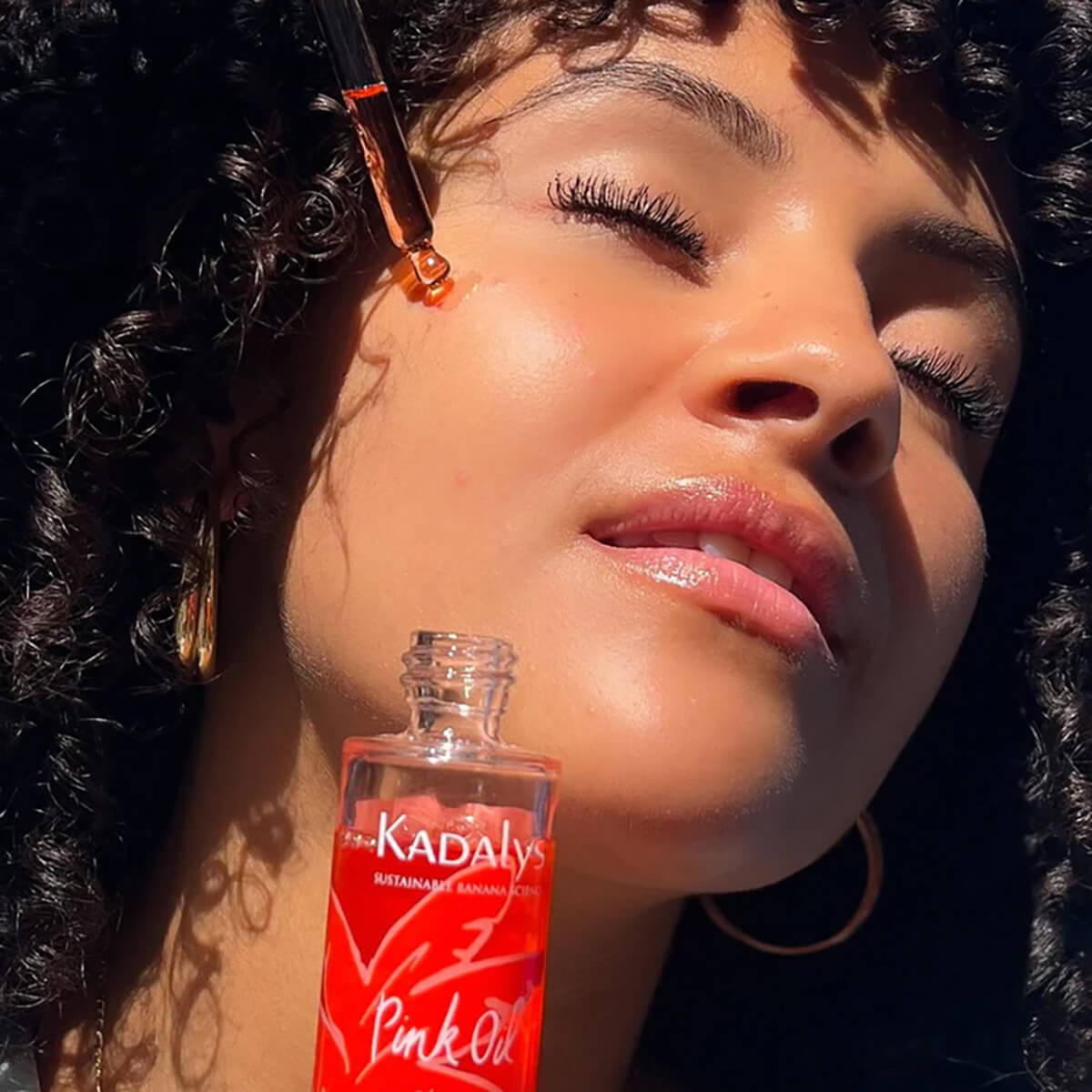 LOVED BY EDITORS & EXPERTS FROM
Healthy, glowing skin is within reach
Imagine waking up every morning with a radiant, youthful glow that makes you feel like you can conquer the world …
… while making the environment healthier too. What a super power.
No more worrying about the long-term health effects of harmful chemicals or contributing to environmental issues.
Instead, spend that energy on that new plant-based recipe you've been wanting to try.
(You know the kids will love it as long as they don't know there's spinach inside. Don't worry––we won't tell.)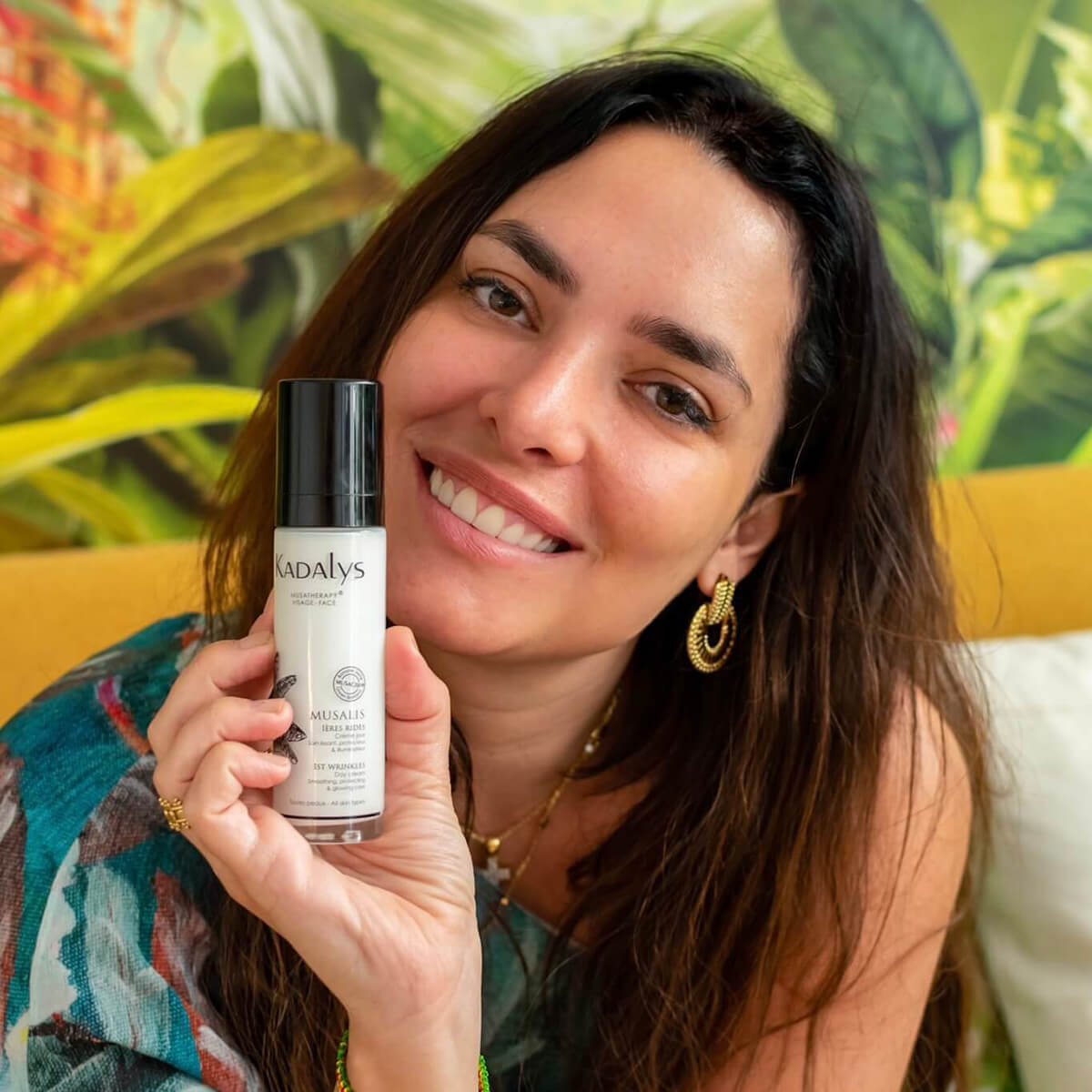 GIVE YOUR SKIN THE ISLAND VACATION IT DESERVES
Discover what Caribbean woman have known for centuries. Bananas are one of nature's most sustainable, skin-loving superfruits.
And Kadalys bio-actives are packed with nutrients that hydrate and nourish your skin, helping it stay healthy:
Vitamins C and B6 to help maintain the skin's elasticity
More antioxidant power than argan and grape-seed oils to fight free radicals
Magnesium, and vitamins A, B, and E to help fight wrinkles and protect against the damage caused by the free radicals
Omega fatty acids -3, -6, and -9, which are crucial to healthy skin function.
Phytosterols to help slow down skin aging
Polyphenols which help prevent skin aging by protecting your cells from oxidative stress
Not only that––but banana bio-actives can help improve our planet's health.
Roughly 1/3 of our food supply ends up in a landfill, and food waste is a top contributor to climate change.
More than 20 million bananas––all chock full of skin-loving nutrients––are thrown away every year just because they're not perfect.
Ahem, who is?
Instead of being discarded, these nutrient powerhouses could be nourishing your complexion ...
... so yay you! Pat yourself on the back for consuming so thoughtfully.
Beauty Should be Effective & Sustainable
At Kadalys, we focus on sustainability and ethical practices. Our products are:
Made with proven bio-actives backed by 3 patents, 10 years of research, and a dozen clinical study results. We use only green chemistry and low-waste principles.


Include only ethically grown and sustainably sourced plant-based ingredients. We partner with our planting partners to ensure the ingredients are grown for robustness.



In fact, there are more than 1400 ingredients on the Kadalys "made without" list, including:

parabens
sulfates (including SLS and SLES)
phthalates
palm oil
mineral oil
talc
synthetic fragrances
gluten
animal-derived ingredients



Early adopters of inclusive capitalism and a circular economy, which means we partner with our planting partners to repurpose food waste. Our planting partners are also shareholders for fair trade.


Sustainable throughout each product's lifecycle, from ingredient sourcing to product recycling. We have initiatives against 12 of the 17 United Nations Sustainable Development Goals.


Certified and vetted by independent, third-party organizations like EcoCert, Leaping Bunny, and The Vegan Society.


Give back to create a positive social impact.We rescue ocean plastic with every order, and we promote women's equality by helping women get STEM and sustainable-science degrees.
Join us on this journey towards healthier skin and a healthier planet.
Maybe You're Thinking …
… inexpensive, non-sustainable skincare products *might be* good enough to get the job done.
But will those products …
… provide science-backed results with non-toxic ingredients?
… fight food waste or other leading contributors to climate change?
… share their profits with the farmers who grow their ingredients?
… give you your money back if you're not satisfied?
… support women's education for STEM professions?
… rescue ocean plastic with every order?
… be certified and vetted by multiple organizations so you know they're safe?
It's time to give yourself permission to feed your skin the same quality food you feed your kids—and enjoy healthy, radiant skin without sacrificing your values.
GET 15% OFF YOUR ORDER TODAY & START GLOWING
Sign up for text messaging and you can get a short-term, limited offer of 15% off your first order.
Plus, You Have Our Banana Smile Guarantee.
We're so confident that you'll love Kadalys, we're offering a BANANA SMILE guarantee.
If, within 30 days, you are not completely satisfied with your KADALYS products, we will refund your purchase. Read the policy here.
So give yourself permission to go bananas and enjoy healthy, radiant skin without sacrificing your values.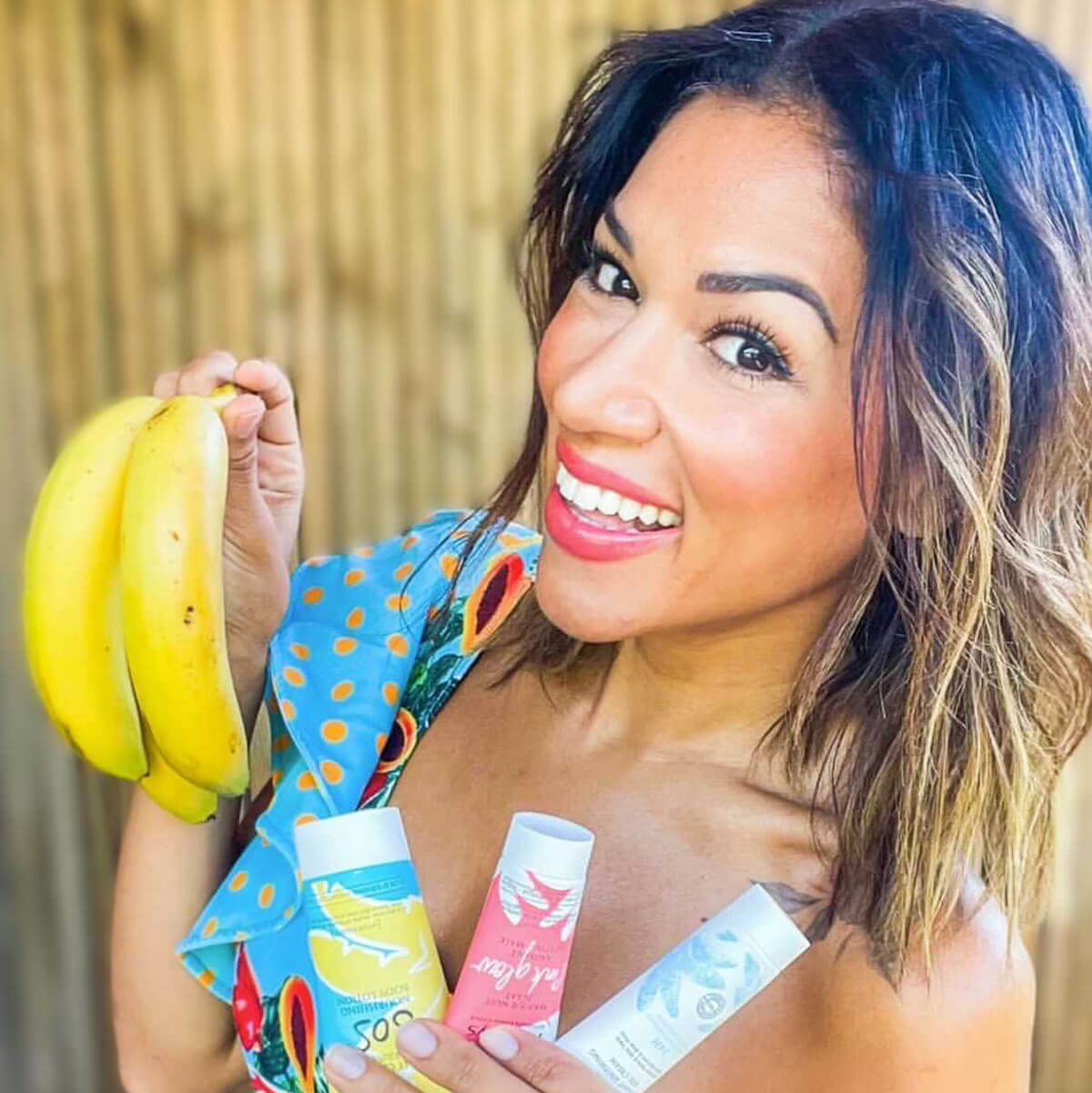 Here's some of what hundreds of editors and beauty experts have to say about Kadalys.
The Visionary Behind Kadalys
Growing up on an island, Kadalys Founder Shirley Billot witnessed firsthand the devastating effects of climate change.
She also noticed people struggling with skin issues caused by harsh chemicals and pollutants. This inspired her to find a more holistic and sustainable approach to skincare.
Drawing on her knowledge of Caribbean traditional medicine and the latest advances in green chemistry, Shirley developed a patented eco-process for rescuing bananas that would otherwise become landfill waste.
She then transformed them into high-performing, organic bio-actives that help dry, tired, and dull skin look refreshed and glowing.
And Kadalys was born.
Ready to join Shirley in her mission to achieve healthy, radiant skin while promoting environmental and social sustainability?
Is Kadalys Right For You?
Here's how you can know if you're a perfect match for Kadalys:
You want products that deliver real results, so you can love your skin.
You've dabbled with lower-cost skincare options, but you worry about the impact on your health since your skin absorbs 60% of what you put on it.
You want to support brands that prioritize ethics and sustainability over profits and Wall Street.
You want to know that the farmers who grow the ingredients will share in the profits and earn a fair wage.
You appreciate the rigor required to qualify for third-party certifications like Ecocert and Cosmébio.
You want products that are natural, vegan, and cruelty-free.
You believe that good quality is often a better value because a little goes a long way … so you can enjoy quality results without breaking the bank.
You value inclusivity. You want products that work across all skin types and tones. And you love supporting a Black and woman-owned brand.
If the answer to any of these questions is 'yes,' then Kadalys might be the perfect match for you.
    FREQUENTLY
ASKED QUESTIONS
No––with the exception of our iconic lip balm. Our cleansers, treatments, and creams have either a citrus or a floral scent.




To provide an inviting sensorial experience –– one that represents the brand's tropical origins –– a natural fragrance is added to each product.




All Kadalys fragrances are 100% natural.




Yes, if you're not happy, we will refund your money. See our refund policy here.




Yes, we offer Shopify payments so you can pay in installments.




Here's how it works...



Shop in our store as you normally would. Add items to your cart.
When you're done shopping, select Shop Pay as your payment method at checkout.
Choose to pay in four installments.
You can choose to pay the first installment for your Kadalys items now or in 2 weeks.
Then Shop Pay will automatically charge your credit card for each remaining installment every two weeks.



You don't have to worry about any hidden costs or fees.




When you use the Shop Pay function, you'll simply order your Kadalys now and pay later.




As a sustainable brand, we do not offer single-use samples at this time.




While we are working to develop a sustainable sampling option, you can try Kadalys in person at one of the 600 retail locations where we are carried.

Send us an email. We'd love to hear from you.
Stop settling for "good enough" skincare that doesn't deliver.
You deserve products that deliver results with high-quality aesthetics and without toxic chemicals.
That's why our products are made with natural, vegan, and cruelty-free ingredients that have been third-party certified for your peace of mind.
We use patented eco-extraction processes to rescue bananas that would otherwise become landfill waste.
Then we transform them into organic bio-actives that help your skin look refreshed and glowing.
And when you're responding to all those compliments about how amazing your skin looks?
You'll feel even better knowing that you're supporting a brand that values sustainability and inclusivity.
Are you ready to go bananas and discover the Kadalys difference for yourself?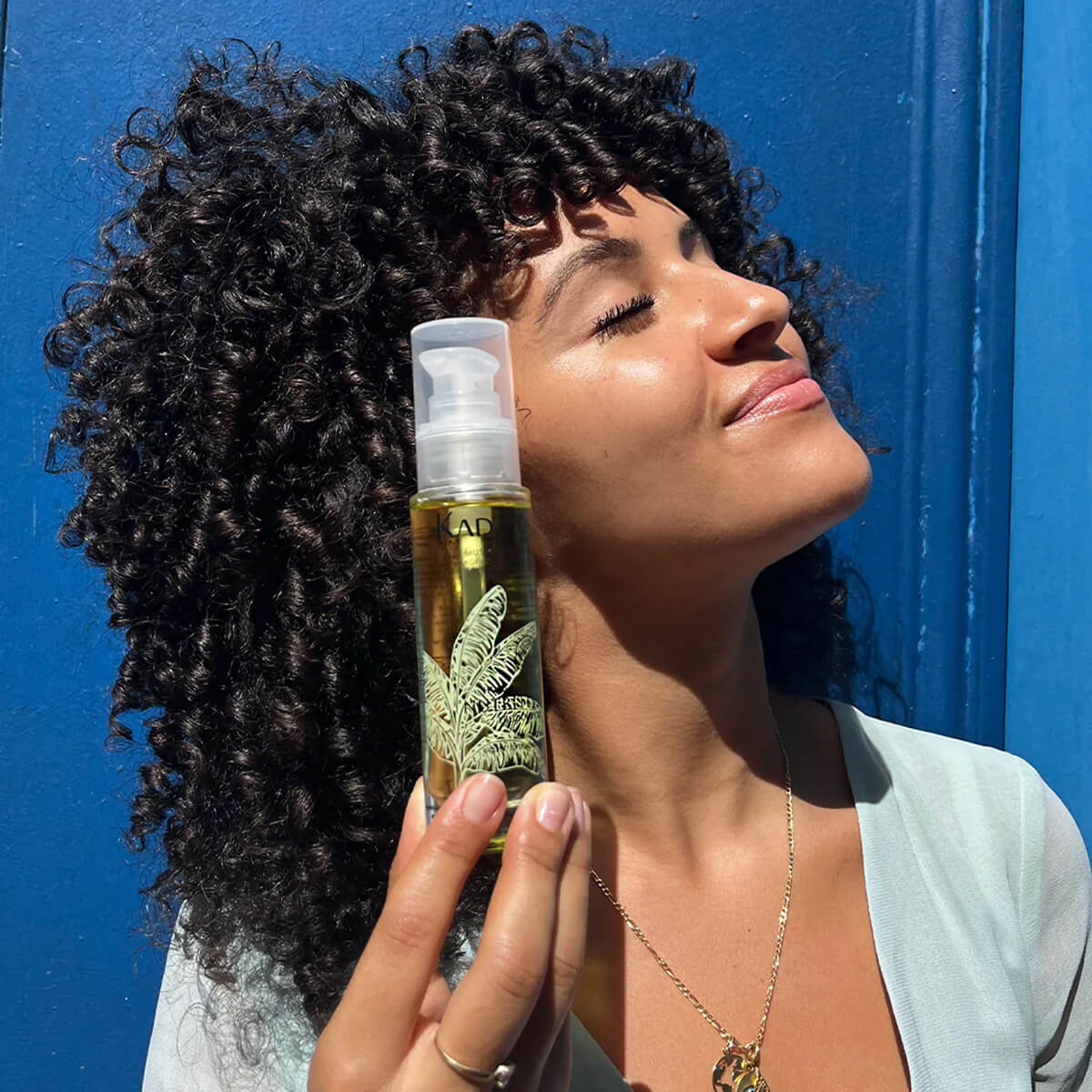 Because your skin tone and complexion can add as much as 20 years to your appearance
It's one thing to age gracefully. But looking 20 years older?
That's a hard pass.
And all those magic elixirs that make up the 515 chemicals the average woman uses daily?
No one knows how those chemicals interact with each other in the body after they've been absorbed.
Why take that risk when there are powerful bio-actives in nature to give the healthy, youthful results you want?
It's time to go bananas and experience the transformative power of natural skincare.